Hearing Aids
How To Chose the Right Hearing Aid In Munster, IN
Do you find it increasingly more difficult to hear your friends and family when they are speaking to you? Are you constantly turning up the phone, television, or radio so you can hear? If you answered yes to any of these questions, you may be a good candidate for hearing aids from Arthur H. Katz, MD in our Munster, IN and Flossmoor, IL offices.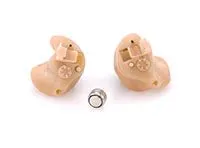 Do I Need a Hearing Aid?
While some people do realize on their own that their hearing isn't what it used to be, for others, their hearing loss may not be as clear. After all, hearing loss generally happens so gradually it is barely noticeable. If you have a difficult time hearing others, you may be a good candidate for hearing aids. One visit to Arthur H. Katz, MD to see an audiologist is a great way to know for sure.
What Types of Hearing Aids are Available?
If you are a good candidate for hearing aids, you likely have many options available to you. The type of hearing aid that is best for you will depend on the nature and extent of your hearing loss, but here are a few options you will likely want to consider.
Completely In the Canal (CIC) Hearing Aids: Small and mostly hidden, CIC hearing aids are popular because they are the least conspicuous type of hearing aids. Unfortunately, CIC hearing aids typically do not offer extra features such as volume control due to their small size.
In the Ear (ITE) Hearing Aids: ITE hearing aids are slightly larger than CIC hearing aids, which gives them more room for extra features, such as volume control. ITC hearing aids are also easier to handle and offer a longer battery life.
Behind the Ear (BTE) Hearing Aids: The largest and most noticeable type of hearing aid, BTE hearing aids offer greater volume levels than other devices and are appropriate for more types of hearing loss.
Talk to your audiologist at Arthur H. Katz, MD to learn more about the options that may be available and to discuss which choice would be best suited for you.
What Benefits Can a Hearing Aid Offer Me?
Hearing aids may be able to help you hear better, but the benefits don't stop there. A quality hearing aid can also help you better connect with your friends and family so you feel less isolated. It can help keep you safe, as you'll be able to hear sirens, oncoming cars and shouts of danger from those nearby. It can also help you better enjoy life, as you'll be able to hear the beautiful sounds you had been missing out on before.
If your hearing isn't what it used to be, make today the day you do something to fix it. Call Arthur H. Katz, MD and set up an appointment for a hearing aid consultation today. Once you hear what you've been missing out on all of these years, you'll be glad you did!
Finding the best hearing aids can be time-consuming and overwhelming at times, call the office of Arthur H Katz MD in Munster, IN at (219) 934-9396 to schedule a consultation today!